Back to Live Stats Info
Scoreboard and Video Output
Power your scoreboards, LED boards or in-venue stats channel using StatBroadcast
StatMonitr and StatBroadcast Live comes standard with our Scoreboard/Video Output view. Just like our regular media stats feed, the view updates in real-time but is designed to be displayed on a video or LED screen with large-format font size and concisely organized information.
Feature Highlights
Powered by the same StatBroadcast system that runs your media stats/live stats
Available for all sports supported by StatBroadcast
Outputs at either 720p or 1080p for wide-screen HD displays (can also be customized for 4:3 SD displays if needed)
Display can be customized to fit a graphics theme or style
Feeds are accessed through a web browser, which can then be output to video using your laptop or desktop computer's video out ports (HDMI, VGA, DVI)
Can be customized to rotate through available views at timed intervals or frozen on a single screen (and advanced using keyboard arrow keys)
Can be accessed easily through a simple URL, just like your stats feed
What do I need to utilize Scoreboard Output at my school?
A subscription to StatMonitr media stats or StatBroadcast Live web stats
Same requirements of our media stats/live stats systems
A separate computer with video output (DVI or HDMI is recommended for HD systems)
Internet connection
Web browser -- recommended in full-screen mode
StatBroadcast recommends Firefox browser for best graphics output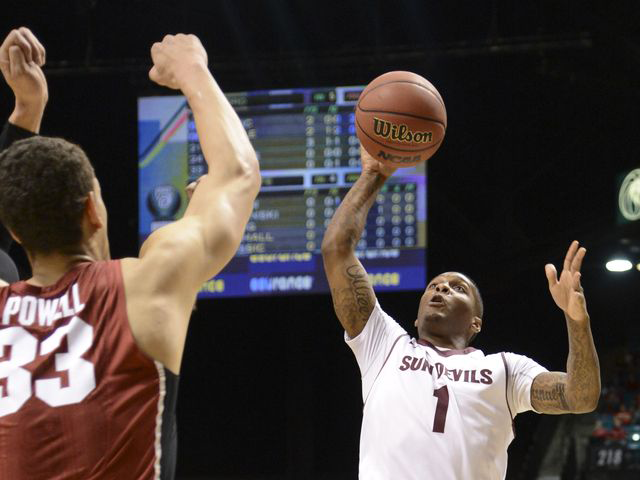 StatBroadcast Scoreboards are in use at events across the country, including:
Pac-12 Football Championship
Pac-12 Basketball Tournament
SEC Basketball Tournament
Big Ten Basketball Tournament
Clemson
GCU
Cotton Bowl Classic
Rose Bowl Game
College Football Playoff